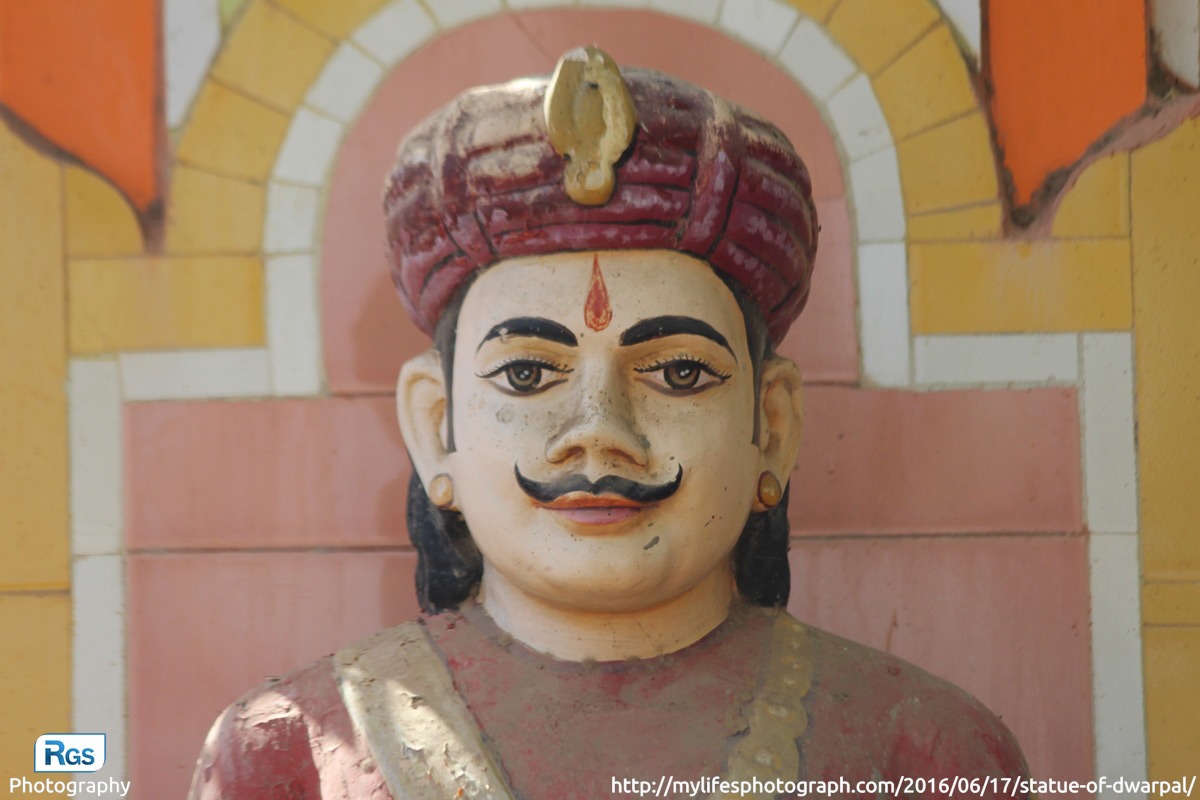 The Statue of Dwarpal
I have captured this photo of the
Dwarpal statue at Ramdev Pir Temple, Devpur Ranuja, Nava Ranuja, Gujarat, India
. This temple is
56 km
far away from the Rajkot. The purpose behind capturing this photo is to see its beauty and shape of the statue. The sculptor of this statue has put all his emotions in it. The
sculptor
also gives his all efforts and vision to create it. Just look at the face, eye, turbans and mustaches but who care of this fabulous work. You can clearly see the dust on it.
Generally, Statues are made to give honour for the great events in history. If you want to know about Story of the Dwarpal, Must read the whole story behind it at
Jaya-Vijaya
. This is story is given from the holy book "
Bhagavata Purana
" which is one of the Hinduism's eighteen great Puranas.
If we talk about the famous statue in the world, The Monument of the Sardar Patel which is known as "Statue of Unity" will be the first in the world. This
Monument of Sardar patel is near about 597 feet
tall but we can consider it as the tallest one but it is in under development. See the below top six wordlwise statues list with its height (Details are taken from the
Quora.com
Sardar patel monument, Statue of unity, Gujarat, India, 597 feet (Under Development)
Spring temple buddha, Lushan country, henan, china 502 feet
Ushiku Daibutsu, Ibaraki Prefecture, Japan 393 feet
Statue of Liberty, New york, USA, 305 feet
The Motherland Calls, volgograd, Russia 279 feet
The Christ The Reedeemer, Rio de Janeiro, Brazil, 98 feet tall, not including its 26 feet pedestal
This photo is captured by using Canon 1200D (EOS) Camera.

Photo taken at: Ramdev Pir Temple, Devpur Ranuja, Nava Ranuja, Gujarat, India

The Below are the settings to capture this photo:
| | |
| --- | --- |
| ISO: | 160 |
| Exposure Time: | 1/250 sec. |
| Focal Length: | 171 mm |
| F-stop: | f/5.6 |
| Flash Mode: | No Flash, compulsory |
| Resolution: | 72 dpi |
| EXIF Version: | 0230 |