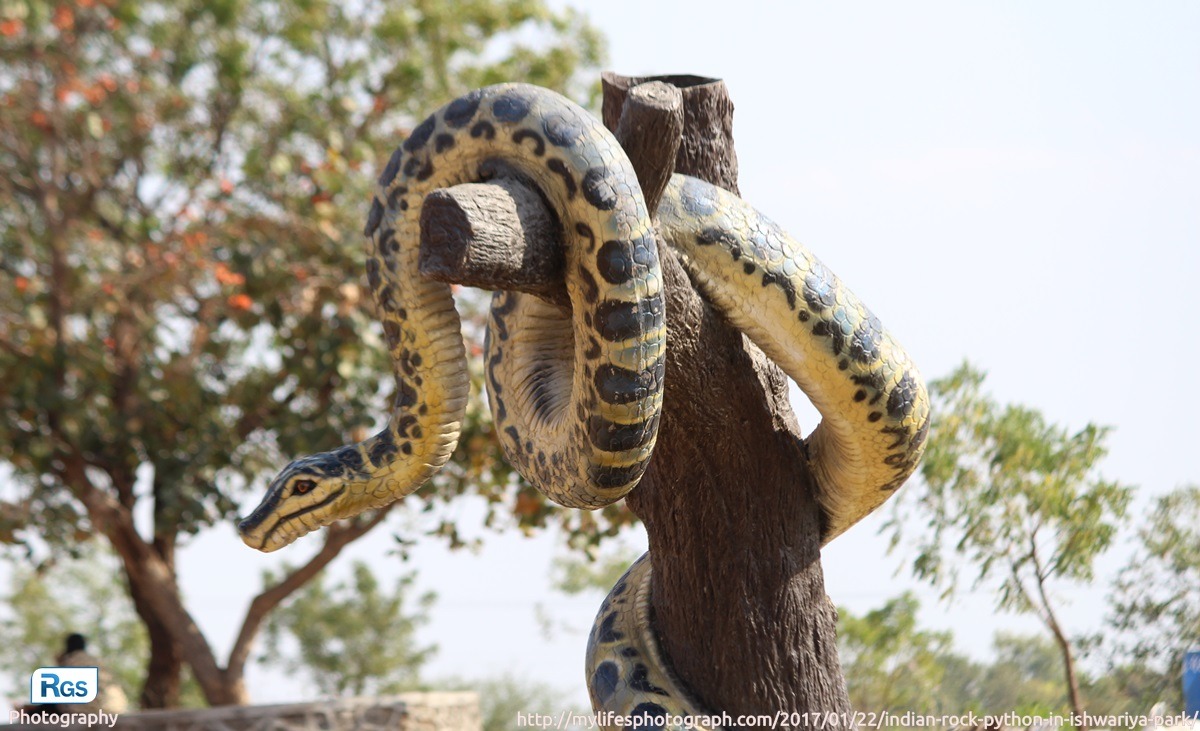 Rock Python in Ishwariya park
I have captured this photo of the
rock python at Ishwariya Park, Rajkot
. This python is not a real but The artist who made this extraordinary art, gave original shape to it so, it looks like the original. If the artist wants, they can do anything for their artistry. There are lots of other animal statues in the garden like
tiger, rabbits, and giraffe
. I really appreciate the work of artists who made these.
If I talk about this garden, this garden is known as
Children park
and famous place for the picnic in Rajkot. Ishwariya park is approx
8-10 Km
from Rajkot city area. This park is spread over
77 acres and located on Jamnagar road
. At here, there is a temple of Lord Shivji(Mahadev) which is known as "
Ishwariya Mahadev
" and there is a lake which is in a back of the park. This park is
opened in 2008
by honorable
former Chief Minister of Gujarat state Mr. Narendra Modi
.
If you want to know more about the park timing, contact detail and other thing, Go to the following mention link:
Location and Timing Details by nrigujarati.co.in
.
This photo is captured by using
Canon 1200D 55-250mm lens
.
Photo taken at:
Ishwariya Park, Rajkot, Gujarat, India
The Below are the settings to capture this photo:
| | |
| --- | --- |
| ISO: | 100 |
| Exposure Time: | 1/250 sec. |
| Focal Length: | 146 mm |
| F-stop: | f/5.6 |
| Flash Mode: | No Flash, compulsory |
| White Balance: | Auto |
| EXIF Version: | 0230 |