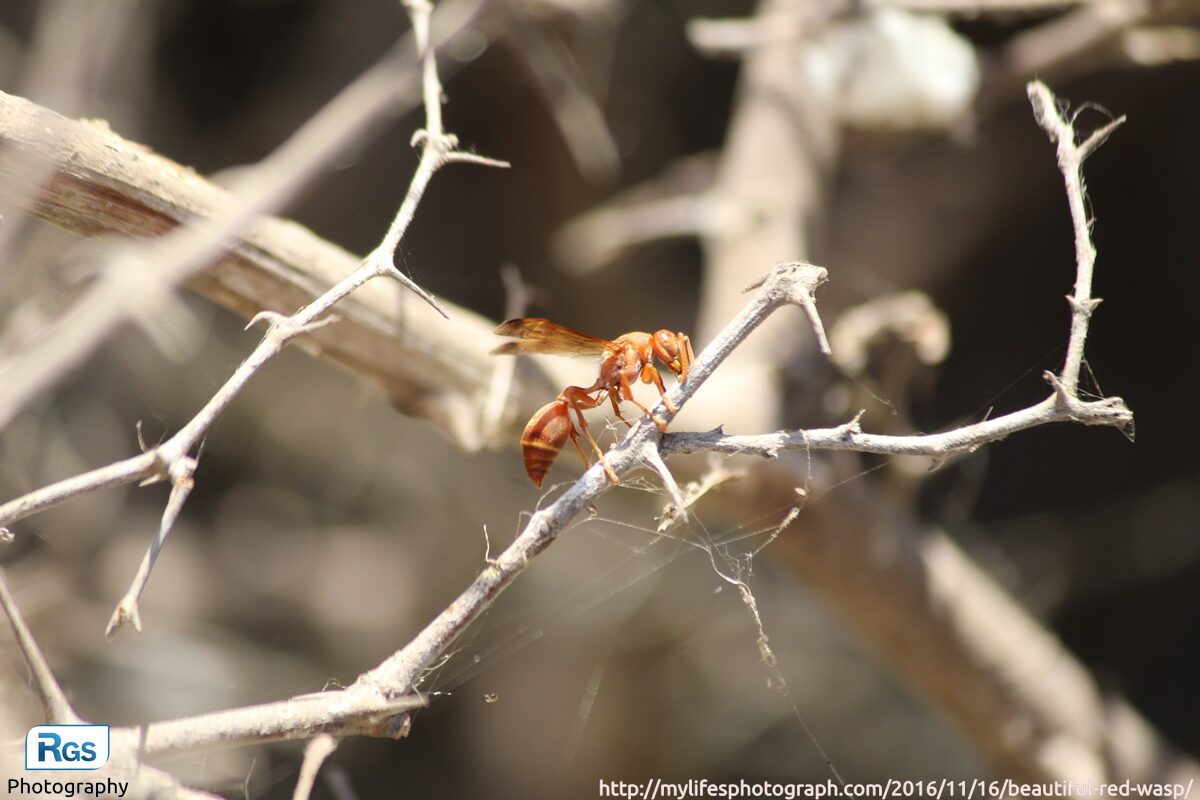 Beautiful Red Wasp
I have captured the photo of red wasp at
Nyari-2 Dam, Rajkot
. Nyari Dam is around 5 km far away from Rajkot. I captured lots of photos over there. Among my 4 favorite clicks, I share my first click with you. It's really hard to capture this photo because the wasp was flying continuously. I took approx.
5 to 10 min
to capture this wasp photo.
I was shocked when I was searching something about the wasps. I want to share some interesting facts about the red wasps which you really want to know.
The Wasps are divided into two category: Social and Solitary.
The Scientific Name of it is "Polistes carolina"
It is a social wasp and nest of it will contain around 3000 to 5000 members in it.
Typically red paper wasps (including male and female) are about 25–32 mm (Up to 1.5 in (3.8 cm)) long.
Usually in one summer, a colony of it can grow approx. to 50,000.
It eat sweet plants, fruits, flower nectar, nectar fluids and caterpillars.
They comes in every colors. They can be familiar yellow to brown, metallic blue, and bright red.
They can live everywhere, except Antarctica.
The main two benefits of wasps are: (i). The agriculture industry heavily depends on wasps to help with pest control for the sake of their crops, (ii). It also help to pollinate crops.
If you want to know more about the red wasps, Visit the following mention link: Wasp Facts for Kids and Interesting Cool Facts About Wasps.
Wasps and Bee are totally different from each other, Are you interested to know more about it? If yes, Visit these links: Bee vs. Wasp and Difference Between Honey Bees and Wasps.
This photo is captured by using Canon 1200D 55-250mm Lense.
Photo taken at: Nyari-2, Rajkot, Gujarat, India
The Below are the settings to capture this photo:
| | |
| --- | --- |
| ISO: | 320 |
| Exposure Time: | 1/400 sec. |
| Focal Length: | 214 mm |
| F-stop: | f/7.1 |
| Flash Mode: | No Flash, compulsory |
| Resolution: | 72 dpi |
| EXIF Version: | 0230 |

Hi, I'm Ravi Shrimali from India. I'm working as PHP Developer at Ahmedabad, Gujarat. I love photography, traveling and meet new friends. Always ready for adventures.