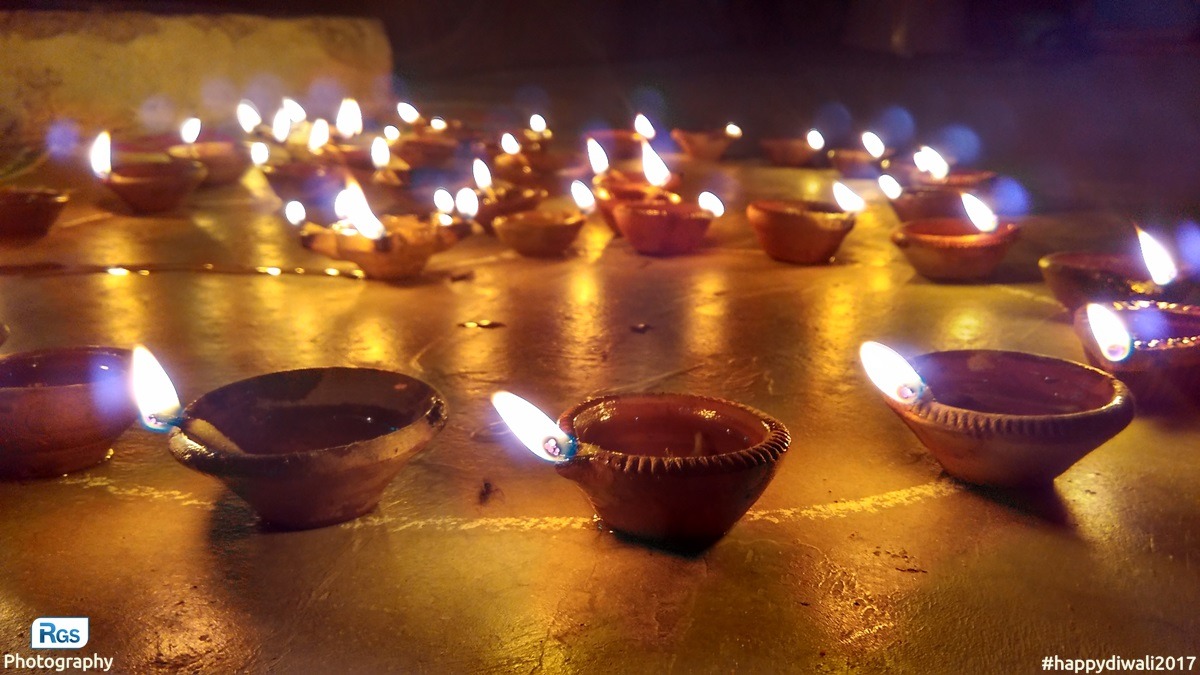 Diwali | Deepavali (Festival of Light) images | Mobile Photography
The Diwali – The Festival of Light
. The Meaning of Diwali/Deepavali is "
continuous line of lamps
". It is the
symbol of the victory of good over evil
. It is celebrated in India with great joy and enthusiasm. Not only Hindus but Sikhs, Buddhists, Jains and other religious people also celebrate this festival with joy. It will celebrate in this year on
7, November-2018
. In Gujarat, It is celebrated for five days.
What happened during Diwali?
According to Hindu religion, on this day, the

Lord Ram with his wife Sita and his brother Lakshman came back to his hometown Ayodhya

after 14 years of Vanvas (Exile) so the people of Ayodhya welcomed Lord Ram, Lakshman, and Sita by decorating their village with the lights of Diyas (Dipak or Lamps).
According to Jainism (Jain), on this day,

Lord Mahavir attained "Moksha or salvation"

.
What will people do on the day of Diwali?
The Women will draw the colorful

Rangoli

outside their homes.
People will burst crackers and light the lamps outside their homes in morning and night.
Businessmen will perform

Laxmi Puja or Chopda Pujan

on this day.
I have captured this photo of the diyas in Limbdi, Gujarat, India. Wishing you a very happy Diwali and Happy New Year in advance. See the Rangoli of diyas Video: Special Rangoli in the Diwali. Also check: The Dipak and The OM.
Don't forget to give your feedback on posts. Subscribe | share and wish to your friends.
I have captured this photograph by using Xiaomi Redmi 2 Prime.
Photo taken at: Limbdi, Gujarat, India
The Below are the settings to capture this photo:
| | |
| --- | --- |
| ISO: | 200 |
| Exposure Time: | 1/25 sec. |
| Focal Length: | 4 mm |
| Flash Mode: | No Flash, compulsory |
| EXIF Version: | 0220 |
Hi, I'm Ravi Shrimali from India. I'm working as PHP Developer at Ahmedabad, Gujarat. I love photography, traveling and meet new friends. Always ready for adventures.